Flaxseed Pain-out Eye Pillow with Lavender
New product
Pure and natural aromatherapy herbs relieve tension and stress
Care:
Store in cool & dry place ; Do not heat in microwave; Surface spot clean only ; Do not immerse in water or liquid.
Cautions:
Customers with any pre-existing medical conditions (i.e. diabetes), or develop during use, should consult a physician prior to use.
Warning: Last items in stock!
Availability date:
Relaxso unique pain-out eye pillow help to block out light while providing herbal aromatherapy to help rid your body of stress, headaches, migraines, sinitus, flu, swelling and muscle spasms.
The gentle weight of pure natural flaxseed calms over-worked eyes while the scent of Lavender relaxes. Fragrance aroma blends of lavender flowers to reduce tired puffy eyes and promote overall relaxation to the entire body.
Natural Soften breathe bamboo fabric selected specially for comfort wear and health benefits. The breathable cotton inside fabric is soft and cooling contours to your face.
Feature :
• Pure and natural aromatherapy herbs relieve tension and stress
• Flax seed filling provides gentle acupressure
• Provides deep, penetrating headache relief and reduce swelling
• Filled with all-natural Flax seed and other aromatic effective ingredients for cold therapy, chill it in the freezer
• At-home versions of common spa treatments to help you recreate the spa experience without leaving your house
• Made of built-in temperature control Bamboo Fabrics to keep you coolest, while its breathable nature with hypoallergenic and antibacterial for greater comfort in pain treatment
• Removable soften cover able to retain, even through multiple washings
• Many spa therapists will recommend this eye pillow regularly to use as cold pack to reduce puffiness and dark circles under the eyes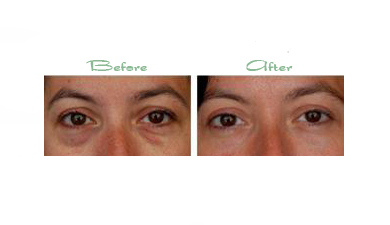 | | |
| --- | --- |
| Width | 4.2" |
| Depth | 0.5" |
| Length | 9.5" |
Ask a question
NO registration required!
1 Question(s) answered
If the question you have has not yet been answered here, use the form below to ask something about this addon.
Asked by Glory Victory
on 11/21/2018

How long shall i place the eye pillow on my eyes for both calm & cold therapy? Thank you in advance for your advice. Regards, KP Ong

Answer:
Place in microwave for 1 to 2 minutes intervals until optimal warmth is achieved. It will stay warm 15 to 35 minutes subject to heat time.
Reviews
Rated
5.00
on the scale
1
-
5
based on
2
customer reviews
Deserves more then 5 stars !
This is awesome eye pillow ! The size and coverage of this eye pillow is perfect. It covers part of the forehead and down to your nose, which if you have migraine's like me it blocks out the light while covering your temples on both sides. You can pop in the freezer for a cooling relief, or add to the microwave for a soft heat when applied. The smell is absolutely amazing!
Relaxing
I got this because I didn't want to use the ones provided by the yoga studio. Too many people using them! Relaxing, soft, smells nice, just the right amount of weight. You can feel the light weight on your eyes, but no pain or after effects.