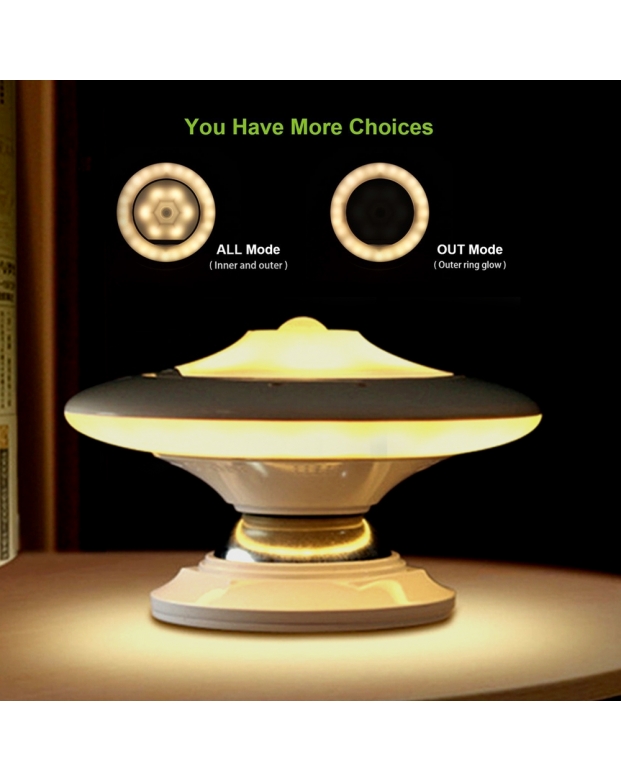 View larger
Frisbee Senor Night Light
New product
360° rotation lamp allows you to arbitrarily change the lighting direction!
Warning: Last items in stock!
Availability date:
Innovative Frisbee Senor Night Light is so versatile you can adjust it for optimal illumination and rotates in all angles for your favorite lighting. Its neutral light is gentle on the eyes and non-stimulating, perfect for keeping a relaxed atmosphere!
Using PIR technology to sense motion by the heat radiant of human being, it offers peace of mind know that lighting will be activated automatically when movement is detected within 10 ft, and turns off 15 seconds after you walk away from sense range.
It can also be use as emergency lighting or flashlight with always on mode. Eliminate trips and falls in midnight from this passive infrared sensor, these Light with 30 LEDs are ideal for bedrooms, baby rooms, closets, cabinets, corridors, workshops, basements, garages, stairwells, roofs, garage entrances, fences and many other places.
Features :
• 360° angle allows you to arbitrarily change the lighting direction turns front and back 180°, light emitting angle can be also arbitrarily adjusted for optimal illumination
• Vertical 120 degree and horizontal 180 degree rotatable, allows you to point the light beam to the perfect spot
• Automatically senses human motion within 10 feet (3 meters) and turns off 15 seconds after you walk away from sense range
• Support AUTO/OFF/ON 3 lighting modes for different lighting need
• Uses LEDs, which consumes up to 80% less energy and last 25 times longer than incandescent bulbs
• Gives Eye-Care natural light - No dark area, No ghosting, No glaring
• Glare free for living room or bedroom helping to fall asleep naturally
• Easy to install, with 3M adhesive pads, built-in magnet and screws, you can stick or hand on anywhere
• It brings the way to enhance your healthy ECO living environment
• USB Cable (USB charging port for smartphone or computer and adapter DC 5V/450mA
Ask a question
NO registration required!
If the question you have has not yet been answered here, use the form below to ask something about this addon.